Post by Chris Matthews on Oct 12, 2015 3:26:29 GMT -5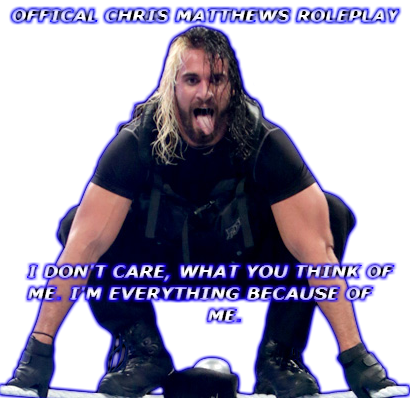 ••F A C E • T H E • T R U T H••
Y O U C A N ' T B E A T M E

- - - - - - - - - - - - - - - - - - - - -
Last Primetime wasn't the greatest, sure Chris has made mistakes, but honestly can you blame him. Maybe the whole fact with Delta is taking him down a road where he doesn't want to go. After all when you love someone so much you continue to fight for them – no matter what. But maybe its time to see the future instead of the past. Chris wanted to fight Delta cause of the pain she caused him, but it a price that needs to paid. She needs to pay for what she did, and Chris is going to be the one to finally erase the past with her once and for all.

Scene comes up at a beach, the beach is empty, the sun is going down as the waves is gently splashing in the distance. You hear seagulls making noise in the sky and even see one heading down in to the ocean and picking up fish. From the distance on the beach we see a man walking down. He's wearing a unbutton dress shirt, black shorts that goes to his knees, sunglasses, and he's barefoot. The man comes closer and its Chris Matthews. People say that he's going crazy, but Chris, nah, not possible. He looks at the camera, he stops and just blindly stare at it as wind picks up.

≫● CHRIS MATTHEWS ●≪
"There's a old saying about sin, and in Delta case, she commit the seven most deadly sins. Lust, Gluttony, Greed, Sloth, Wrath, Envy and Pride. Each one was point towards me, and it makes me sick to my stomach. I mean what have I really done to her? I mean in our short time, I made her feel special and just like a female she gets what she wants and runs off. Delta to me you're the seven deadly sin. Now lets go down the list of what you are to me and why I think you are are the seven deadly sins."

He holds up his pointer finger at the camera.

≫● CHRIS MATTHEWS ●≪
"Lust is an intense and uncontrolled desire. It is usually thought of as uncontrolled sexual wants. Lets take out date to Paris, there I saw a wild side to you, you love the feeling of my arms all over you. You, loved the feelings, you said to me, you wanted me to make a women out of you, you was in so much pleasure. Me, I didn't really care about me, I cared about you. All I did in Paris was for you, yet you couldn't tell Endee about it, you thought to yourself that she be ashamed of you. I mean lets be honest here Delta, what will you new boy toy think about you? What do you think is going though his mind right now? Delta, right now you're listening to this promo and calling up your lawyers now. That what it comes to you now doesn't it, you get your lawyer on the case, cause you know in reality that you can't beat me, and makes you sick to your stomach. Now lets take a look at the next sin."

He holds up his second finger at the camera.

≫● CHRIS MATTHEWS ●≪
"Gluttony is the overindulgence and overconsumption of anything to the point of waste. And that's what you did to me, you grabbed my heart and ate it whole. You think a guy can't feel hurt, depressed, sadness? Then you know nothing Delta, you want to talk about me hurting you, or putting you though hell, well the pain that you're feeling is nothing compared to what I'm feeling. When you dumped me, it was heartbreaking, and thanks your actions, I become something I never wanted to be. You drove me to be the monster, that you made me to be. You wanted to see a monster, you got one coming your way."

He holds his third finger to the camera.

≫● CHRIS MATTHEWS ●≪
"Greed is, like lust and gluttony, a sin of excess. However, greed is applied to a very excessive or rapacious desire and pursuit of material possessions. Now you have greed there Delta, all the stuff I bought you in Paris and you never gave it back. That just being greedy, I spend so much money on you in Paris and for what, so you can just dump me and keep all the shit I bought. I'll be expecting you to pay me back for all that stuff by the way. I mean I did say I was going to spill the beans about your past, but you know what its better to torture you. I mean I could go to the press and spill all the stuff over the net and make you so embarrassed of yourself, but I think I could make the thought run though your mind, knowing that I could do it at any time. Delta, you're worst then any rich snob, you care about yourself and not any other people feeling, as you all know that at last primetime, I decided to over take Xion show, and I'll continue it til I get my hands on Delta, well looks like Zero gave me my request, which means he loves primetime so much that he couldn't bare to watch his show get taken over by the military."

He now has four fingers up.

≫● CHRIS MATTHEWS ●≪
"Sloth can entail different vices. While sloth is sometimes defined as physical laziness, spiritual laziness is emphasized. Failing to develop spiritually will lead to becoming guilty of sloth. Now this one is tricky for me to really understand about this sin. Now I know your not lazy, well at least in the bed your not lazy, so I guess I can say nothing more about Sloth, cause honestly Sloth isn't you Delta. So lets skip from Sloth and something I'm guilty of, but so are you."

He has five finger up now.

≫● CHRIS MATTHEWS ●≪
"Wrath also known as "rage", may be described as inordinate and uncontrolled feelings of hatred and anger. Wrath, in its purest form, presents with self-destructiveness, violence, and hate that may provoke feuds that can go on for centuries. Now, I know I'm angry and I have a hatred towards you, but you Delta – this isn't about me, its about you. It always been about you hasn't it. I guess you can say, I helped with your anger issues and last time we spoke on twitter, I went into rage mode to make you angry and make you prepared. But lets me honest, your angry wasn't towards Jimmy or Beth, it was directed at me, why I must ask? Why was your anger towards me, just like your sister, I tried to help, I tried to be the perfect guy, but your family is nothing but a curse and that's why Wrath is about you Delta and its about how you can't keep control of yourself."

He then gets a grin on face as he puts his other hand up and showing six fingers.

≫● CHRIS MATTHEWS ●≪
"Envy like greed and lust, is characterized by an insatiable desire. Envy is similar to jealousy in that they both feel discontent towards someone's traits, status, abilities, or rewards. I now know what you hate me so much, its because you're jealous of me, you are jealous that I have something you don't. I have a championship belt, and what about you Delta, what do you have? Nothing, that right you have nothing but a empty nest. You go home feeling anger and hatred, and its all because I'm champion and you're not. How does that make you feel, I bet it killing you on the inside. It makes you scared that you'll never be as good as I am. You want to know what is funny Delta, you would've had it all, you're a queen, you would've had king and we would've ruled GZWA like a kingdom, now you go home and you problem look at yourself in the mirror and think to yourself that you're nothing but a common Diva, you're a feminist and you think that all women needs to think for themselves, but lets get to reality, a girl needs a guy to protect her. Me, at Primetime, I'm going to rearrange your face, and maybe, just maybe you may get little prettier."

And puts his hands down, takes off his sunglasses and looks at the camera in his own eyes.

≫● CHRIS MATTHEWS ●≪
"Pride is considered, on almost every list, the original and most serious of the seven deadly sins: the source of the others. It is identified as believing that one is essentially better than others, failing to acknowledge the accomplishments of others, and excessive admiration of the personal self. This is what you are the most, you maybe a queen, but in my eyes, you're the same old Delta who I went to Paris with, but now that gone away, and I'm going to finish what I started with you, I'm going to beat you down so badly, that you sister what remember who you are. Delta, I'm done being the perfect gentlemen towards you, its time for the beast to be unleashed. I'm going to tear you apart, and after I'm done, if I decide to expose who you really are, you entire life will be ruined. Delta, I hope you're ready for Primetime, cause I can promise you, that I am. I'll see you later ….BABY. BELIEVE THAT AND BELIEVE IN CHRIS MATTHEWS. HOORAH! DO OR DIE!!!"

He puts on his sunglasses and walks away as the scene fades to black.
- - - - - - - - - - - - - - - - - - - - -

• Y O U K N O W I T •
IN THE BACK OF YOUR MIND