Post by Athena on Oct 12, 2015 14:06:07 GMT -5

I don't know if this is because of my upbringing or the people that surrounded me in my youth, but I always took work very seriously. It was always my main priority.

Blake Harper, one of the newest Vixen's to take the GZWA ring by storm, is shown in a gym, located in her hometown of Detroit, Michigan. The empty gym is shown, the camera moving past the ring ropes, in between punching bags and through the weights laying on the ground as Saint Asonia's "Fairy Tale" could be heard in the background. Already in her workout attire, Blake is shown throwing vicious punches at the back, doing sit ups while holding a medicine ball, jumping with a jump rope while interchanging her legs. But that was only the beginning. Training with ropes, boxing offense and defense, stepping into the ring not only with a training dummy, but also with a trainer, who would help her perfect the timing of executing the move. Even a public training was organized in the gym where up and coming athletes in combat sports could workout together and share their knowledge and collected experience. Finally, the scene cuts to Blake standing in front of the white painted wall of the gym locker room as she faced the camera.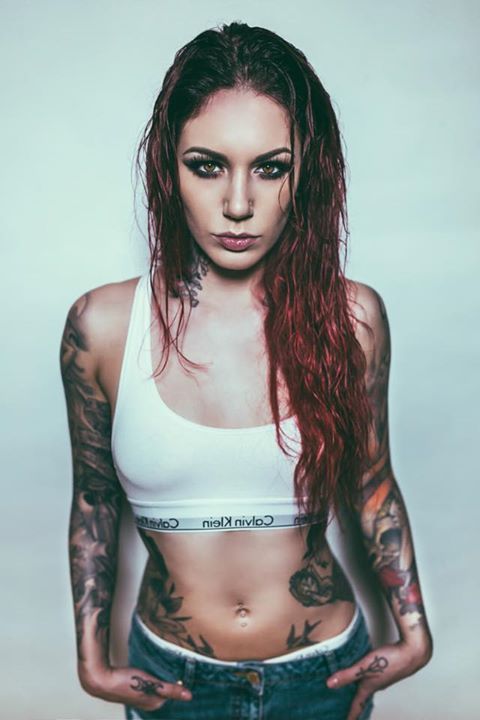 Her workout session has just ended, the first out of the two she had planned for today. Already after a shower, her hair was still soaking wet as the fiery Vixen didn't really have the time to wait for it to dry. Looking point blank at the camera she finally cracked a smile.

I should probably prepare a lot more for these things, shouldn't I?

Blake's cheery laughter echoes through the empty locker room as she shakes her head slightly.

I can't say that I am very good at selling myself to an audience. My body of work consists of fights, not promos. But, sometimes you have to step out of your comfort zone, right? After facing the top female wrestler on my debut and later on standing in the ring with three hungry fellow rookies, all from different weight classes and with different styles, I honestly felt like a kid, who just learned how to swim, being thrown into the deep end. Thankfully, I raised above sea level and now GZWA gave me something I am very familiar with. Circumstances that help me show my best.

Leaning against the white wall, she moved her fingers through those fiery and still damp locks.

On Primetime I will go against Alice Shadow in singles action. Facing a single opponent, similar height and weight is very much what I am used to. But in no way does it mean that this match doesn't require any preparation. Before every single match I prepare a training regime, depending on who is my opponent. Last time I had to work on every single aspect of my moveset. My striking needed work, my ground game needed work, my finishers needed polishing. I had to be ready for anything, since these were three wrestlers who I never faced before, all of them with their own unique style and quirks. This time, I can focus all of my attention to one single style and one single person in that ring.

The scene once again shows Blake hard at work, discussing something with her trainer, perfecting her kicks and working out the kinks in some new moves that she wanted to add to her arsenal. Next, she is shown sitting in on a bench, breathing heavily right after a series of takedowns by her sparing partner, her arms resting on her knees.

I watched every single match of Alice's I could find. I honestly wanted to understand what kind of person she is. You know, sometimes it is enough to see a person in the ring and you have cracked the code. But there are examples, where you have to understand the person's psyche to know what to expect from them in the ring. Alice is one of those people. She is not driven by technique or pure athleticism. Alice Shadow is a creature of emotion.

Taking off the wrist tape, she saw that her knuckles were just slightly swollen. Taking a packet of ice, she placed it atop of her hand and looked back at the camera.

I know I keep bringing up my past experience in MMA and the differences and similarities between that and wrestling. Pardon. It's just the only thing I know and for me it is easiest to relate through that. While preparing yourself for a fight, usually, we try our best to keep our emotions behind the door of the gym. Sure, you get frustrated and angry, but most of the time we try to keep mutual respect and see our opponents as our colleagues. In wrestling a lot more emotion and backstage influences shape your match. Usually, the best matches in WWE, TNA or GZWA were the ones that were fueled by raw emotions: fury, wrath, anger, despair, disappointment, jealousy, betrayal. Matches between Lita and Trish, Mariah and Raven, Shawn Michaels and Bret Hart and many others. People remember them for the emotional response they evoked. And Alice Shadow is exactly that person. She can compellingly tell you a story, fill in the gaps with the colors of feelings. Yet, in the long run, it distracts her.

Blake moved around the ice along the redness around her knuckles as she took in a deep breath and exhaled slowly.

She has quite a powerhouse moveset. No problem in lifting people up and tossing them across the ring. At the same time, she has a few strong submission moves up her sleeves, with whom she can catch you completely off guard and end the match in seconds. Her ring work is pretty solid: good striker, is able to use her strength on the ground and also holds a few more theatrical finishers. But it is the backstage element that steers her away from the title picture. Alice's sister Ashley Wonder works in the company, Alice is dating one half of the Mega Busters. She also tried to make friends with almost every single person on the roster. That just shows her outgoing nature and it is all fine. Being on the road can get lonely and company is needed. Yet, personally, I always took work very seriously and no friendships, relationships or backstage drama could move my focus away from that one single goal - winning.

Placing the ice pack on a towel that was besides her, Blake looked at the camera once more.

Yeah, I should get to my point now, should I? Well, to put it bluntly... Alice has all of the potential in the world, but got distracted by all kinds of backstage relationships. Friends are important, but too many people around you can become a weakness. There is a saying about people like her: "She shoots to kill, but aims to please". We, as wrestlers, should never forget that as much as it could be entertaining to cause a fight in a bar after a show or be popular on social media, our main focus should be putting on a great show every single night for the people that make it possible for us to make a living out of this. And I hope with all my heart and soul that at our match on Primetime, beating me will be the only single thought in the head of Alice Shadow.

Blake stood up from the bench and walked back towards the ring to resume her training as the scene faded to black.