Post by Chris Matthews on Oct 13, 2015 19:07:12 GMT -5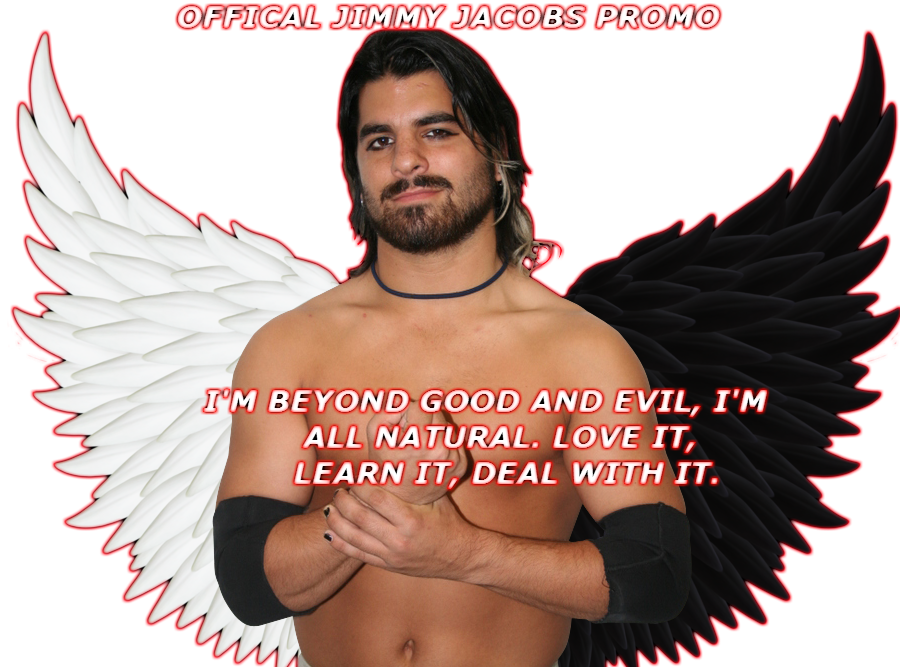 ••B O R N • T O • B L E E D••
F I G H T I N G T O S U C C E E D

- - - - - - - - - - - - - - - - - - - - -
★ Death is a open door – Combat Attire ★
We all know what its like to face someone like the deadman in a match. It never really easy, Undertaker is like the toughest guy to ever step in the ring. This week, Jimmy Jacobs is going to be going up against him. But the other question that remains is – can Jimmy Jacobs beat him. It wasn't long ago that Undertaker came back to the ring, and scared both Jimmy Jacobs and Carnage and made then run with their tails between their legs. But Jimmy Jacob is learning that Undertakers mind games won't work on him. Jimmy Jacobs needs to show Undertaker that he can't scare him –
– But before anything be said more, the sound of "Watch you bleed" by Five finger death punch hits the pa system. The Camera pans at the entrance ramp, but nobody is coming out. The Music hits again, and still nobody is coming out. The Just then there was cheering in the crowd. The camera moves over the excited crowd and we Jimmy Jacobs sitting in the crowd. He's already in his combat gear. He leans back and puts his foot on the crowd barricade. The crowd is packed tightly tonight. It seems like there's not any room to move. We see Jimmy Jacob eating popcorn and drinking soda. Just then the music fades. Jimmy puts the pop corn on the floor and grabs a mic.
✯ JIMMY JACOBS ✯
I'm in the stand thinking about tonight against Undertaker, I think about what he's really about, he may have gotten the best of me and Carnage, but I can assure you, that it won't happen again. Well, not in my case at least, the Undertaker thinks he can come back to my ring and take my championship, nah ah, I don't think so. Who do you think you are deadman? You should've stayed dead, but yet you continue to rise like a phoenix. I thinks its time you realize who you're dealing with Deadman, you are nothing more then bag of bones that needs to stay buried, but you just won't die will you? I want to know why you can't stay dead. Tonight, I going to make sure you stay dead, and if I fail in that attempt, then I'll finish, not only you, but Carnage as well.
He looks around and he sees a bunch of smelly, nose picking fans next to him. He feels sick to his stomach, he sees a fight guy wearing a deadman t-shirt, with ripped denim jeans, and rotted out sneakers. Jimmy Jacobs pretended to barf on the floor.
✯ JIMMY JACOBS ✯
Deadman, just like these fans who seems to worship you, you know those fat, smelly, nose picking inbreeds you call fans. Me, I don't know need no fans, even though I have them. Fans knows about me, they know what I can do. Undertaker, just like your streak, I'm going to end you, and then I'm going to end you when I'll not only put you away in the casket, but i'll put that idiot Carnage in the Casket. It just comes down to know who the best, Carnage, well, I'm sure he knows what I can do, hell I pretty much made his face prettier with my spikes. Undertaker, don't you think its funny that after coming back to GZWA, you think to yourself that you still got it. I say got what?
Jimmy Jacobs gets up and climbs the crowd barricade and gets in the ring.
✯ JIMMY JACOBS ✯
I say it come time for you to realize that I can hang with you, I can hang with the legendary deadman in the middle of this ring, and tonight deadman, not only am I going to rearrange your face, I'll make sure that your lovely wife Michelle, knows what a degenerate you really are. Deadman, when that bell rings tonight I guess I can say you'll REST...IN...PEACE.
He drops the mic and he gets a grin on his face. Just then "Watch you bleed by Five Finger Death Punch hits the PA system, Jimmy Jacobs gets out of the ring and heads up as the scene fades to black.
- - - - - - - - - - - - - - - - - - - - -

• B U I L T T O E N D O R E •
WHAT THIS WORLD THROWS AT ME