Post by Samuel on Dec 18, 2018 1:52:06 GMT -5
Samuel Chatman stands outside of GZWA headquarters as a camera crew files outside the building and begins to prepare to spend the day with "The Crown Prince".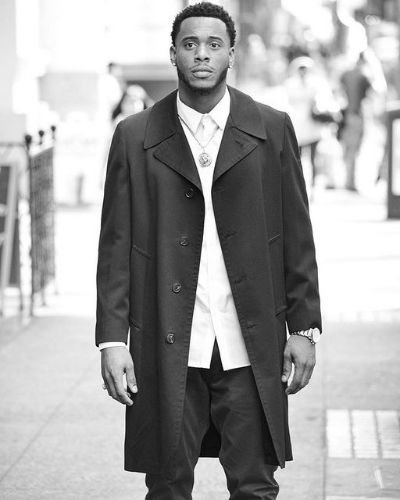 Samuel was not dressed in athletic gear today nor was he working out in the gym which seemed to be the go to spot for his peers and their promos these days. Instead he stood there dressed quite nicely giving off a vibe of class and sophistication that would make of his primary trainers Ivory proud. He greets the camera crew and walks towards the black Mercedes-Benz van that was waiting by the curb and a driver opens the door and Samuel steps in and slides into the black leather booth like seat and pours a glass of water out of the crystal container on the table in front of him. He leans back and puts both arms on the seat and looks peaceful as he takes a deep breath and closes his eyes. The camera stays on him for a few minutes before shutting off when it is clear that he has slipped into a peaceful sleep.
About two hours later the van parks and the driver gets out of the van and walks around and opens the door. Samuel sits up and puts his sunglasses on and everyone exits the van. Samuel checks himself out with the selfie camera on his phone. Once he is satisfied he licks his lips and shuts off the camera and puts the phone in his pocket. A cold gust of wind blows and he shudders before taking out a pair of black leather gloves and putting them on. The camera crew takes positions in front and beside him so they can shoot him at different angles as he begins to walk.
|| "The Crown Prince" Samuel Chatman ||
It is a nice day out here, the sun is shining but it is the cold breeze that makes you think twice about walking down these sidewalks when you hit the shaded areas where the direct sunlight isn't beaming off your skin.
He pulls his coat tighter as he exhales and his breath comes out in a white cloud showing the viewers just how cold it is. The camera catches the stores to his left and they are some pretty high end fashion stores. Everyone on the sidewalks look well off and each is sucked into their own world without a glance to the people around them. All of them with their jewel covered cell phones and big purses with tiny dogs inside of them. Samuel walks up to a jewelry store and opens the door and enters. He is immediately greeted and takes off his gloves as a clerk offers to take his coat. He hands them over and the clerk scurries away as Samuel heads towards the back with the cameras in tow. He enters the back room and the view has all sorts of gems and various pieces of jewelry all around. Clearly this is where the magic happens where each gem is matched with a piece of jewelry to make some beautiful pieces.
He is warmly greeted by the store owner who leads him to the diamond station where there are diamonds of all shapes and sizes lying around. Samuel is brought a bottle of water which he opens and takes a swig as the he and the owner catch up on the time that has passed since they last saw one another. In truth they have known each other for years and Samuel has bought many a piece of jewelry from him. It was no secret that in the past he had many excursions with the opposite sex and sometimes that required gifts especially if he had been caught in an interesting situation. He had also been there during the serious times when he met a woman that he seriously considered leaving his "man-whore" ways behind. He had only made that type of purchase twice and he knew that the last time was the right decision. They finish their chat and they embrace in a hug before the owner walks off to finish setting emeralds into a gaudy necklace for some starlet to wear to the upcoming Oscars.
|| "The Crown Prince" Samuel Chatman ||

This used to be an interesting spot for me, I have come here in times of happiness, times of guilt and desperation, and now I'm here because I wanted to give you all a lesson on diamonds. Recently Justin Lockhart reintroduced himself to the world after some applications of Just for Men in his hair and beard and one heck of a plastic surgeon. He really looks like a new man. There is nothing wrong with that because everyone should do what makes them happy and comfortable in their own skin. I don't know how safe injecting silicone into your biceps is because I have seen those hooked on the look shows and the human Ken doll has been done bro, but you do you.

Samuel smirks and shrugs his shoulders. He sits on the stool behind him and puts the eye piece on his right eye that are common in the jewelry profession and picks up the tweezer like tool they use and picks up a small diamond.

|| "The Crown Prince" Samuel Chatman ||

Now boys and girls it is time for a lesson on diamonds from yours truly so hit that pause button and go to the bathroom, wash your hands, get your favorite snack and your favorite drink and let's get this party started.

Samuel takes his free hand and lifts the bottle of water to his lips and takes a few gulps. His lips glisten with the moisture from the water as he puts the bottle down. He gives the fans that love to look at him and dream of him waking up next to them everyday a treat as he licks his lips in a manner that LL Cool J fans would remember.

|| "The Crown Prince" Samuel Chatman ||

Alright, y'all good now? Let's begin. There are two types of diamonds out there and they are created very differently, you have your synthetic diamonds and your natural diamonds. Take this little guy here, it is a synthetic diamond, also known as a man-made diamond because it is created in a lab. While it looks like a natural diamond and the same methods and procedures were used to create it, a natural diamond is actually more than 3.3 billion years old, making them extremely special and one of a kind. Now the creation of the synthetic diamond is really less significant than the origins of a natural diamond but there are some things to note. Synthetic diamonds are made by a scientist who will place the element carbon under high-pressure and high-temperature to form a diamond crystal or in the alternative they can grow them through a chemical vapor deposition. This method has them take a small seed of a diamond crystal and grow it layer by layer in a chamber.

So the question that I'm sure you are asking yourself is which type is more valuable right? Well depending on the size, color, and clarity of the diamond it can be up to 20 to 40% less expensive than a natural diamond. So how do you identify a synthetic diamond you ask? You need to have specialized equipment be it QLED or UHD televisions, glasses, contacts, LASIK surgery or just the eyes that your parents gifted you when you were created but also a grading report helps. Now what does all of this have to do with Justin Lockhart and myself is the million dollar question. Justin spoke to you all earlier this week and presented himself to the world with this newly created look and persona that isn't that bad honestly. He has a new purpose and a new way of thinking. He self-reflected on this past year and decided to make some changes in his career. Everyone should reflect on themselves and seek to better their current situation so I dig that.

But this look of his and his style was manufactured and not created in the earth and naturally mined and presented for the world for their pleasure and enjoyment. This isn't a girl's best friend but rather an insecure man who isn't sure of his hardness and whether it will withstand high pressure and high-temperatures. Ladies you don't want a man who isn't sure of himself do you? Fellas if you date a man you also want him to be secure of himself and his masculinity or you wouldn't date men right? "The Diamond" as he is now called will certainly shine like he did on Primetime and he has the ability to clean-up nice and will even have you consider if he is the right pick. You will look at it and think for a while is this the diamond that will get me the yes that I seek when I ask the million dollar question. Sometimes it will get the yes but that depends on the caliber of person that you are asking that question to and I have to believe that the GZWA Nation is not full of cheap individuals but individuals that demand the quality that can only come from a one of a kind natural diamond like myself.

I was mined from the earth several years ago by a lot of people who saw the value I possessed. They knew I was made up of the hardest mineral known to man. They knew that I could withstand being cut and polished and that one day I would take my birthright and wear the crown on my head that I was destined for. Cutting a natural diamond is not only an art, but it is a very precise and exact science. The skills needed to be a proficient diamond cutter and polisher takes years of training to acquire. First you mark and carefully examine and measure the rough diamond and you compare it to other rough diamonds. You then place it on a sawing spindle that possesses a special type of blade to where the marker has marked the stone. Fun fact for you, it is actually the diamond powder that physically cuts the diamond and that powder is the blood, sweat, and tears that come from all the bumps and bruises you get in the ring where you train day in and day out. Once you cut the diamond, you set it onto a dopstick using a special type of cement to secure it in place and the remaining rough diamonds rub together and the friction wears the corners of the diamond down until one of them is perfectly round in shape.

The amount of hours that my mentors and trainers put into me created that friction from not just learning how to properly take bumps and be safe with my fellow wrestlers, working on the microphone, how to walk, talk, and bleed this business. What a champion is and what a champion is not but most importantly to not lose myself and to always remember that I was a natural and was mined for that reason. They taught me to never forget my value and so while Justin is correct, he was inside the GZWA ring while I was off fighting the nation's wars and I had to step out of the ring that I love so much, it never lessened my value and I am still coveted by all. He does not have to honor me as a wrestler because we aren't made the same way. You opinion is 20 to 40% less valuable and everyone sees it Justin. It is why you needed a total makeover because you finally admitted that you needed to change to get the recognition that you so desperately seek. That attention is naturally given to me because of who I am. I don't need to stand here and tell the world about my changes and then name drop those that are in a spotlight that I am not in.

The people in that spotlight already know that I am coming for them and they are thankful for the borrowed time that they have while I reclaim the throne that is my natural birthright. You should really stop looking towards the future when I am the obstacle that stands before you in the present. Like all natural diamonds, I have been blocked, bruted and girdled to ensure that I was perfectly round. I have withstood all the cuts and all the polishing and I have the fire, brilliance and scintillation that a natural diamond must possess. I am the diamond that GZWA management uses when they seek a partnership with the GZWA Nation because they know that I guarantee a yes. This yes is given freely and without hesitation and I am every girl's or a guy's best friend. I am not the product of some dye and injections that were whipped up in a lab, I am the real deal. You will find out in our rematch at Dead or Alive 2018 that I am the natural diamond that is the centerpiece of the crown that is known as GZWA.

Samuel puts the diamonds down and stands up from the station. He grabs the bottle of water and says goodbye to his friend. He says goodbye to all the employees in the front of the store and a young lady hands him the coat and gloves he gave her earlier. He smiles and kisses her hand and she blushes and giggles as he puts his coat on and departs the store. The cameras follow him outside and head back to the van. The driver greets them and Samuel gets into the van and slides in the booth like seat to the center and puts his arms up again and closes his eyes and drifts off sleep with an unbothered and peaceful look on his face.